SELECT A DIFFERENT COUNTRY
IRISH TV & STREAMING MEDIA SERVICES
This section contains many useful media services for use with your Irish based VPNUK IP address, there are lots of services available in Ireland, this is just a small selection.
Even more services are available through our innovative VPNUK SMART DNS service.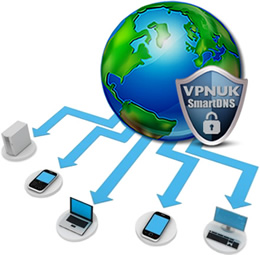 The VPNUK Smart DNS service is a brilliant way to access certain web sites and services. The VPNUK Smart DNS services works on virtually every kind of system or device, this includes Smart TV's and Games Consoles! You can now bypass the need to log in or even create a VPN connection. In order to connect to the VPNUK Smart DNS service you only have to to make one small edit to the connection settings of the system or device you would like to connect. Click here for setup instructions.
Selection of available services and broadcasters
This is a selection of the services available through the VPNUK Smart DNS service.
Dedicated (Static) IP VPN
PPTP - L2TP - OpenVPN - Smart DNS
Single and Multi user accounts
Unlimited bandwidth and usage
Servers in UK, Italy & USA
Unique static IP address
Only £9.99 per month
Shared (Dynamic) IP VPN
PPTP - L2TP - OpenVPN - Smart DNS
Multi user account for 2 users
Unlimited bandwidth and usage
Unlimited access to 17 countries
Unlimited access to over 100 servers
Dynamic IP assignment
FREE Smart DNS Access
Only £5.99 per month
Using our service is 100% legal, what you choose to do with the access we offer is completely up to you. You should always have a valid UK TV license in order to watch LIVE programs broadcast on BBC UK. The VPNUK service will only ever provide you with access to the services listed on this website, any additional subscription or fee's that arise from the use of third party services is not included in our monthly fee.